22nd February 2021
Dear Parent/Guardian,
I hope everyone connected with our school managed to enjoy some respite last week. If the news on the media is to be believed it looks like remote learning is not over for our pupils in the near future. (It might interest you to know that schools have yet to be informed of the plan going forward.)
All class teachers have prepared differentiated home learning packs for the weeks of 22nd February and 1st March. These should be collected on Monday 22nd.
It is very important that any family who were contacted re no Seesaw evidence of work completed, also return the last set of work. Failure to do so may result in your child being marked absent without reason for the two weeks of the pack. As a school we have a duty of care to maintain contact with all pupils during lockdown and part of this duty extends to receiving completed work.
If your child is sick or cannot complete work due to other reasons, this should be reported to school via the school office in the normal way.

Please keep safe and continue to take care of each other and abide by government restrictions.

God bless.
Mrs J Loughran
Principal


jloughran940@c2kni.net
.
Gallery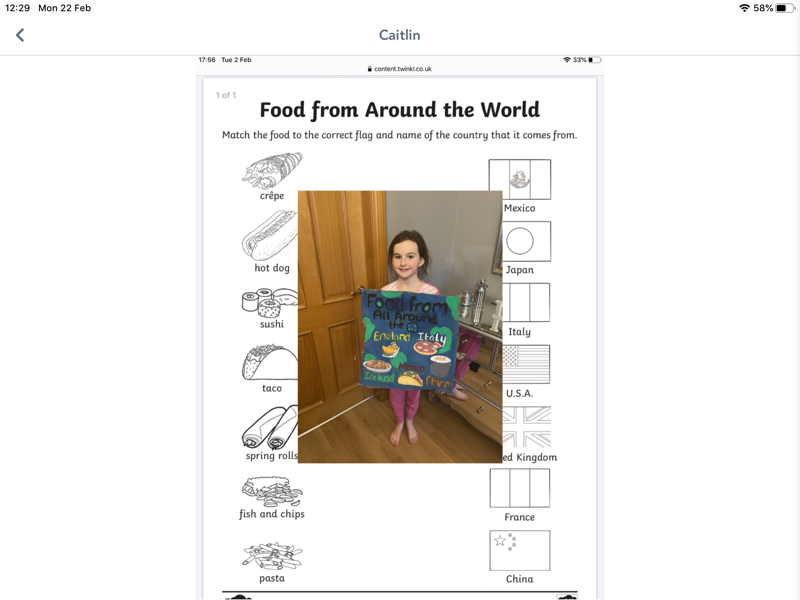 Finn, P3
Calendar
Tuesday, 2nd March 2021
Remote learning from home
Wednesday, 3rd March 2021
Remote learning from home
Thursday, 4th March 2021
Remote learning from home
World Book Day
Friday, 5th March 2021
Remote learning from home
Whole school virtual assembly on Seesaw
Addendum to policies owing to Covid 19
Learning pack collection times 8th March
9-9:30am: A – C
9:30 – 10am: D- F
10-10:30am: G - I
10:30-11:00am: J - M
11-11:30am: Mc - O
1130-1200 noon: P - R
12-12:30pm: S - U
1230 – 1pm: V –Z
Please remember to socially distance and wear a face covering/mask.

No face covering/mask: no entry: no exceptions.


Only one adult to collect books - no children please.


Please note that all reading books must be returned on 22nd clearly labelled in a plastic bag with pupil(s) name and class on the outside of the bag. No new books can be given out if the previous set are not returned. NO EXCEPTIONS.
Safer Internet Day, Tuesday 9th February 2021
'Safer Internet Day' 2021 takes place worldwide on Tuesday 9th February 2021.
This year's global theme is - 'An internet we trust:exploring reliability in the online world.'
We will be using the UK Safer Internet Centre resources as a basis for the work carried out this week.
Parents may like to take a look at some of the resources we use.
Please visit the "Links" section of our website and click on "E safety" for lots of important information for parents.
Our school home learning plan during lockdown.
As the whole school has been forced to close owing to government directives,home learning will move to the Seesaw app. This app allows pupils, teachers and parents to communicate with each other.
In addition each pupil will receive a two week home learning pack which is to be kept in a safe place and used as directed by class teachers. This will ensure that all pupils will have access to paper materials as well as online.
This plan has been put in place as a result of parent responses to online learning during the first lockdown and we hope there will be opportunities for all pupils to continue with their learning while at home.
RC Electrical, website sponsor for 2020/21
Come and see what we do...
St Jarlath's Primary School 89 Charlemont Rd, Blackwatertown, Dungannon, County Tyrone, BT71 7HH | Telephone: 028 3754 8826

WEBSITE BY: SCHOOLWEBDESIGN.NET | Login