Armagh Road Race success!
19th Feb 2016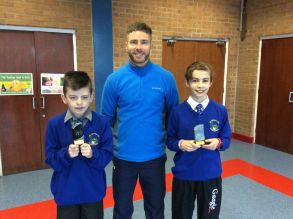 Massive congratulations to all of our Road Race entrants last night who braced the elements to race around the mall. We are all very proud of you! Special thanks to go to Mr Mc Kenna and Mr Mark Haynes (Parent) who trained our athletes in the lead up to the race.
Also congratulations to Connor and Ella who attained 4th and 9th places: superb!
St Jarlath's Primary School 89 Charlemont Rd, Blackwatertown, Dungannon, County Tyrone, BT71 7HH | Telephone: 028 3754 8826

WEBSITE BY: SCHOOLWEBDESIGN.NET | Login